Pewter Flatware, Ilton Collection
Bevelled design, nicely balanced hand finished in Italian pewter. We offer steak knives and serving pieces, much more than you can purchase elsewhere online.
See below for full Ilton Price list
Five piece setting consist of table knife, table fork, dessert spoon, dessert fork, tea spoon, see shapes, dishwasher friendly (up to 30C/86F and with mild detergents), 95% pewter and 5% stainless steel, the knife blades are forged stainless steel. Each piece of pewter is cast metal rather than pressed, and is then polished and antiqued by hand, creating the classic pewter finish. The small irregularities and size differences in Valpeltro's flatware are a sign of the craft nature of its products which are still made using ancient techniques. View shapes here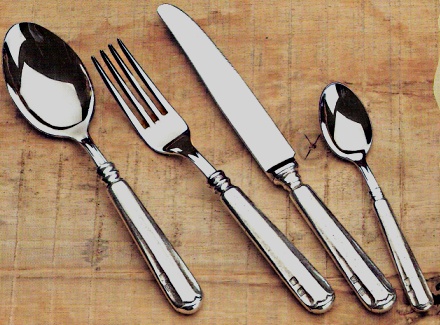 Copyright © 2003-2016 - Elegance2003 Ltd

Italian Pewter by Valpeltro,pewter flatware
All rights reserved.