Luxury dinnerware, Azay by Jammet Seignolles
Prestige Azay - from the Chatieau collection, azay has a Mat gold inlay with rouge shoulder
Gilding, 'incrustation' is Limoges greatest strength, high concentrations of gold and traditional hand polishing give the work an unmatched depth and clarity that is second to none. Colors range from rich and vibrant to the subtlest of shades. The following are superb examples of this craft.
Scroll down for price list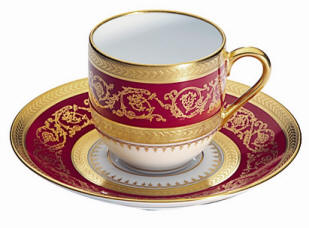 Azay
Copyright © 2003-2016 - Elegance2003 Ltd
Elegance2003 for J. Seignolles Limoges China Dinnerware
All rights reserved.