Arborescence Blue and White Dinnerware by J. Seignolles
Superb decorative blue and white dinnerware set from Limoges, France. Porcelain that will grace your table for a lifetime
Classic - Arborescence - At first sight a simple pattern, however, look a little deeper and this is a unique design. The plant leaves are edged in gold , the blue shoulder and edging to the plates have a combination of flecked gold and shades of blue, each piece has a subtle variation of pattern. Additionally the plates and saucers can have a white or blue theme, ideal for mix and match. The pattern shape is Limoges (round cup).
Scroll down for Price list and to purchase Aborescence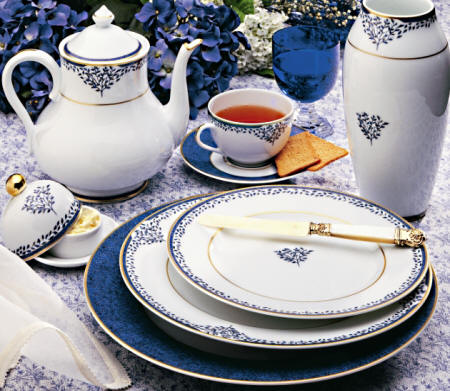 Copyright © 2003-2016 - Elegance2003 Ltd
Elegance2003 for J. Seignolles Limoges China Dinnerware
All rights reserved.