French Steak Knives: Why and Which Steak Knives
Most people purchase a set of flatware based on the number of setting requirements, match if with the china setting and as an afterthought at a much later date consider the need for steak knives, unless you are vegetarian of course. Most flatware manufacturers do not offer matching steak knives as part of their collections. The only company I know that offers steak knives to match is John Philip of France, there may be others.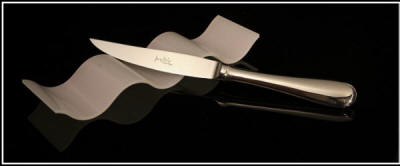 Baguette steak knife by Jean Philip
Whilst you do not need to exactly match you existing flatware is it nice to be able to complement it, and fortunately there are many many options for steak knives in a variety of handle finishes in natural wood, exotic wood, mother of pearl, horn, silver and different designs. Always look to purchase a quality product from a well known manufacturer which will provide the weight, authenticity, and quality that you will appreciate for many years. The main functional requirement of a steak knife is its cutting ability and its ability to remain sharp. Look for blades in forged steel.
Probably the most famous and widely used knife is the Laguiole steak knife made in the village of Laguiole and surrounding towns. It is recognized by the distinctive Napoleon bee on the bolster and will be inscribed with the manufacturers name and Laguiole on the carbon steel blade. Beware of copies we are often offered Laguiole knives from India.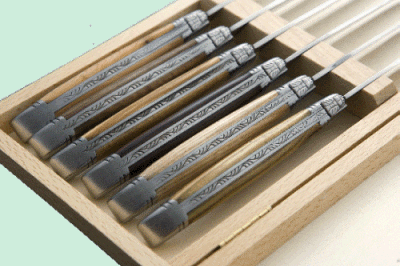 Classic Laguiole steak knives by Jean Philip and Chazeau
The Thiers steak knife is again a variation of the local theme but is a lovely knife, made to exacting standards in a variety of exotic woods.
Thiers steak knife in a choice of exotic woods
Whilst not an essential part of your flatware collection the French steak knife is an attractive and very practical addition.