Sterling Silver Hallmarks – Why?
In this day and age when so many of our products are mass produced in the far east it is good to know that we can still make high quality luxury goods in the country of origin. In the UK sterling silver is still produced in the traditional way and stamped with a hallmark to prove its origin and silver content. There are two premium areas of manufacturing - Sheffield specializing in sterling silver flatware and cutlery, and Birmingham concentration on sterling silver gifts and tableware.
Hallmarks were introduced in the late 18th century as a guarantee that the manufacturer is producing real sterling silver on each and every piece and to protect the purchaser. Sterling silver in the UK, or solid silver, must have a precious metal content of 925 parts in 1000 and be independently assessed as so. Every piece of sterling silver in stamped with an independent hallmark.

Broadway Silversmiths hallmark
Sterling silver hallmark explained
Each hallmark consist of 4 marks or symbols:-
Makers mark – every sterling silver manufacturer has a unique mark. For example the mark for Broadway Silversmiths is B&Co.
The Standard mark – indicated that the silver is at least 925 parts in 1000 and is represented by an anchor.
The Assay Office mark – each item is tested and stamped with the hallmark at an independent government run offices in Birmingham, London, Sheffield and Edinburgh. The Birmingham mark is a lion.
The Date mark – a single letter indicates the year (since the year 1773) in which the product was hallmarked. Obviously since we have a maximum of 26 letters the form of it changes – capitals, small letters and different fonts.
Ensure that if you purchase any UK sterling silver quality tableware or gift that it has been formally and independently assessed by checking that there is an hallmark.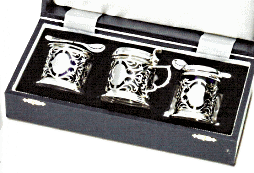 Sterling silver silverware - condiments set from Broadway of England