The Manufacturing Process of Lead Crystal
We have some video coverage of the the manufacturing process which also has some excellent pictures of the crystal.
The manufacturing of glass is an art and process established over 2000 years ago and uniquely has changed very little apart from the addition of lead to create today's lead crystal. Lead crystal usually comprises of 48% silica sand, 24% potash and 28% red lead.
The lead crystal formula is mixed and turning into molten crystal in a furnace heated over 2000F. Red lead is added into the furnace to create the purity and density.
Lead crystal is blown glass but because of its weight and thickness it requires a coordinated team of blowers. They use their skill and experience to create the glass body to the correct thickness. This is necessary to enable the glass designs to be deep cut. At this time other parts such as handles can be added.
The pieces are then placed in an annealing oven - under controlled conditions the oven slowly and evenly heats the glass to an annealing temperature. After a brief soaking period to ensure even heat distribution throughout the glassware, the oven temperature is slowly returned to room temperature.
The lead crystal glass is now ready to be cut. A pattern is drawn on the items and then mapped out with a power wheel. The finished design is then completed using diamond tip wheels using a combination of flat and wedge cuts to provide contrast, followed by the smoothing process on a sandstone wheel.
To finish the items it is dipped into a combination of sulphuric and hydrofluoric acid which removes a thin layer of glass providing a uniform and lustre finsih.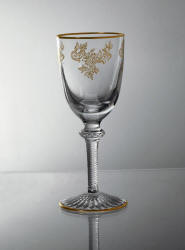 If engraving is required or is part of the pattern small copper wheels are used which required great skill, patience and care