The Robert Haviland and C. Parlon Story
See below for background information -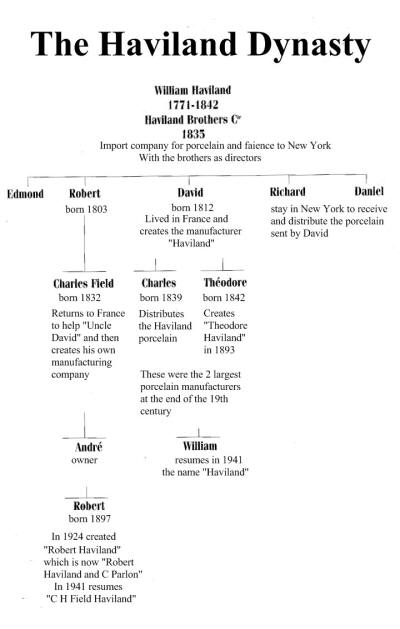 William Haviland and Haviland Brothers
The company originally imported English earthenware and French faience dinnerware and later traded under the name of D.G. & D. Haviland Trading Company. It was here that David, Richard and Daniel started importing French porcelain which although the Americans liked the shape they were not enthusiastic about the patterns and some of the settings. David travelled to France to improve choice - see below
David Haviland, sons Charles and Theodore Haviland, grandsons George and William Haviland
David Haviland was prominent in bringing Limoges porcelain to the US. He initially imported French porcelain to New York as part of Haviland Brothers but moved to Limoges in 1842 to personally select patterns for export from various Limoges factories. He later opened his own decorating studio decorating blanks on items made to his design. In the beginning, David Haviland designed his creations with the American market in mind, later he met painter and sculptor Felix Bracquemond and appointed him to head his studio. During this period, the studio employed the great talent from such artists as Gauguin, Ribiere, Dufy, and Cocteau, drastically changing the direction of Haviland designs.
David Haviland assisted by his sons Charles and Theodore started producing porcelain in 1865. Theodore Haviland left the company to start his own company called Theordore Haviland in 1865 whilst Charles managed the existing company - Haviland and Company. Haviland and Company was taken over by George Haviland on Charles's death in 1921 and closed in 1930.
Theodores son William Haviland obtained the marks and designs of Haviland and Company and then merged the two branches of the family to trade again as Haviland and Company. It is not now part of the family but still trades today offering superb patterns under the name Haviland SA.
Robert Haviland, son Charles Field Haviland, and grandson of Charles, Robert Haviland
Robert Haviland was along with his brothers part of a landowning family in Harrissson's Purchase near New York. He visited France in 1839 to explore the French porcelain industry.
Charles Field Haviland born in 1832, the son of Robert.
Charles Field Haviland left America for Limoges in the early 1850s to work originally for his uncle, David Haviland founder of Haviland and Company and later rented a porcelain factory in partnership with his father, Robert, and brother. Subsequently he opened his own decorating studio for porcelain to export items to the US and in 1868 purchased a porcelain manufacturing company.
He married the granddaughter of Francois Alluaud and later took control of the Alluaud porcelain factory, one of the oldest Limoges factories. Charles Field retired in 1881 and the company became known as Gerard, Dufraisseix and Morel using the white ware mark GDM. The partners changed around 1890 and the company was subsequently called - Gerard and Dufraisseix and eventually Gerard, Dufraisseix and Abbot (mark GDA).
The tradition and the taste for porcelain manufacture were strong in the Haviland family and his grandson Robert Haviland at the age of 27 established his own new factory in 1924.

In 1941 Robert Haviland in honor of his grandfather Charles Field Haviland purchased the "CH Field Haviland" trade mark which is still in use today. In 1949 the Robert Haviland company associated with C. Parlon to form the company Robert Haviland and C. Parlon under which it still trades today producing exquisite porcelain dinnerware.

Today
From a family company that started trading in the US in the early 19th century the two companies still exist today producing fine porcelain dinnerware.