History of Porcelain
Whilst travelling in China Marco Polo discovered a dish so fine that when he returned from China, he named it "porcelain". The term "porcelain" comes from the Portuguese word porcella, the name for a translucent shell. Around 1520, the first Chinese porcelain was imported into Europe. It had an immediate impact and a widespread appeal amongst wealthy Europeans, so much so that France and Italy tried in vain to ban it and then imitate the delicate porcelain. Things don't change much!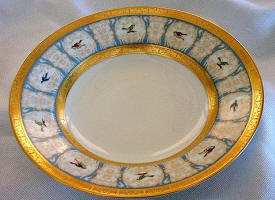 Bengalis by Robert Haviland & C. Parlon
Until the end of the 17th century the only means to obtain kaolin (in Chinese this translates to white clay) was to import it from China. Kaolin had not been discovered in Europe and the Chinese were fiercely protective of the source and processing method.
In the early 18th century, Kaolin was found for the first time at Sax. In 1708 the secret of hard paste porcelain was identified by Johann Bottger a chemist working of Meissen in Germany. Meissen became the first factory producing hard paste porcelain in Europe replacing the more unreliable soft paste method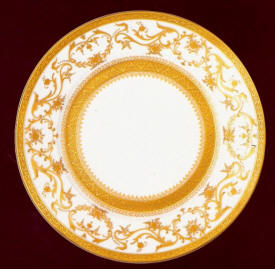 Dynasty a classic design from Robert Haviland & C. Parlon
Kaolin was finally discovered in the late 18th century in Limoges, France. This initiated the history of Limoges porcelain manufacturing. Despite being a small town, Limoges was one of the oldest in the French kingdom but well placed for natural resources and man power. In the beginning one manufacturing facility was set up, quickly followed by several more, predominantly to meet the demands of European courts.
The leading artists of those days; painters in particular, became interested in this fabulous substance. As a result essential objects for daily use as well as decorative articles became available. Since then masterpieces were created and passed along generations worldwide. Some such articles can be viewed at the " Musee de la porcelaine de Limoges " the most important in the world for its presentation of porcelain through the years.
The skills of yesteryear are still alive and well in specialist porcelain companies such as Robert Haviland & C. Parlon, Haviland Limoges, Jammet Seignolles and Bernardaud.