Laguiole Knives
Unusually the Laguiole knife is not a company or trademark or brand name, it is a small village in Central France, part of the Auvergne a wild beautiful area of mountains and rural scenery. The knives are made in an area surrounding the town of Thiers, a town specializing in the manufacture of flatware and cutlery, and the small village of Laguiole.
The origin of Laguiole knives is shrouded in history and is thought to have originated in Northern Spain from the Capuchadou a fixed knife with a wooden handle and brought into France by migrant workers. This knife was then improved upon to become the folding Laguiole knife of today by Jaques Calmels the son of an innkeeper in Laguiole who had served an apprenticeship in the cutlery industry. The folding knife became the knife of choice for the farmers and shepherds of the area.
The traditional Laguiole knives consist of 1 to 3 parts – blade, corkscrew and piercer (used for making small holes) and when in use is held in place by a hooked spring. The corkscrew element was added when the local village people, in common with the majority of rural France left their villages to move to the big cities in the late nineteenth century. Some opened or worked in restaurants and the Laguiole corkscrew became the corkscrew of choice both in France and eventually across the world. The Laguiole steak knives are purely a knife.
All modern day Laguiole knives have the bee on the bolster. The bee signifies that Napoleon has approved and recommended the use of the product, something like the Royal Warrant of Approval in the UK. Legend has it that Napoleon was camped near the village of Laguiole and the local people stole into the camp and presented him with a Laguiole knife. In the morning he gave the village the right to use the Napoleon bee.
Today the local industry has expanded to offer other items such as steak knives which have become very popular worldwide. The design both in its beauty and the functionality and quality of the blades make an excellent product. Added to a variety of attractive handles in horn, silver and a variety of natural and exotic woods the Laguiole steak knife has become a firm favourite. A number of Laguiole and Thiers companies specialize in the product – R. Chazeau, Forge de Laguiole, Fontenille Pataud, Goyon Chazeau, Claude Dozorme, Laguiole en Aubrac, Thiers Issard, Rossignol, and G David.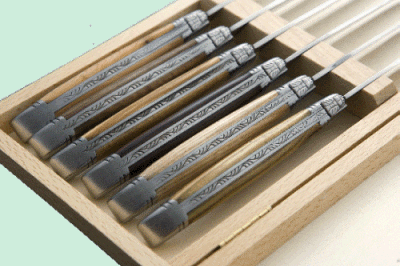 Classic Laguiole steak knives by Jean Philip and Chazeau
Beware of copies, a Laguiole steak knife is a complex item to make and can be identified by the bee, the name of origin on the blade, its weight and quality, and the authenticity of the manufacturer. They are not cheap and you should look to pay $300 plus for 6 knives in the traditional wooden box. I have been offered as a retailer Laguiole knives made in India, so beware.