How to choose quality flatware
First things first.
Quality flatware comes at a premium and is defined by the design (including weight and feel), quality of production and materials, hand finish and genuine attractiveness. I prefer flatware from those countries and companies with a long tradition and proven record of manufacturing in the country of origin – England, Germany, France and Italy, but that's purely a personal view.
Much of the current cheaper and not so cheap flatware on the market is made in Asia, especially those of the larger brands.
Good quality flatware is available in four types – stainless steel, pewter, silver plate, and sterling or solid silver. Good quality stainless steel should be 18/10 (18 % chromium, 10 % nickel and the rest is steel). Chromium makes the steel rust-resistant, whilst the nickel provides acid resistance and provides a richer look to the flatware. Silverplate or EPNS is a base metal alloy of nickel, zinc & copper. A layer of pure silver is deposited on this base metal to give a silver finish. Sterling silver is only regarded as sterling silver if the silver consists of more than 925 parts to the 1000. In the UK each piece is independently stamped with a hallmark by the Assay office.
One thing worth noting is that whatever flatware you have be it silver plate, gold plate, or sterling silver, the knife blade will be stainless steel. It is the only material hard enough.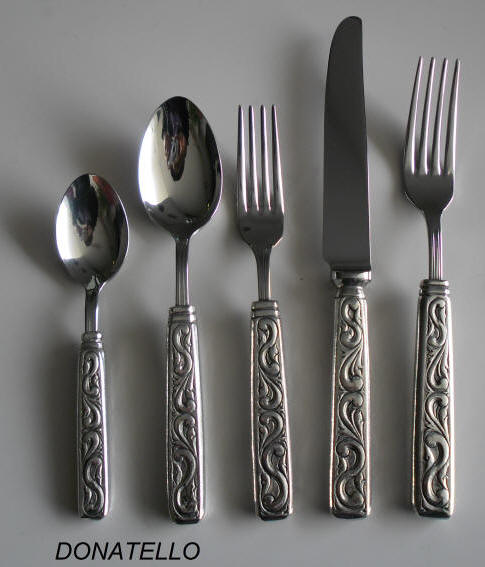 Donatello pewter flatware by Valpeltro
Flatware Fashion
The handle design mainly drives the look and attractiveness of the flatware although some of the more contemporary designs for example Scandinavian flatware take the whole piece into consideration as a free form item.
Your initial thoughts should be on your existing tableware and what will match or complement your dinnerware and stemware. Are you looking for a traditional, classic or contemporary setting. The traditional look very much suits those flatware patterns in silver and stainless in full metal some of which go back the seventeenth century (rat tail, bead, filet etc).
The last few years have seen advances in design creativity in the handle and bolster designs. These modern and classic designs make use of natural woods, lacquer, and resins providing a myriad of colors and finishes such as marble, mother of pearl, ivory and bamboo. These designs will complement both fine china and contemporary dinnerware, indeed natural wood in my opinion matches gold decorated china as effectively as the more expensive sterling silver.
One of the advantages is that they can, depending on the manufacture and the finish, be dishwasher proof. We offer a sterling silver collection by Robbe and Berking that is very unusually dishwasher safe and can be found only in top end shops and is collected by super yacht owners because of its nautical connections and the fact that it is salt resistant.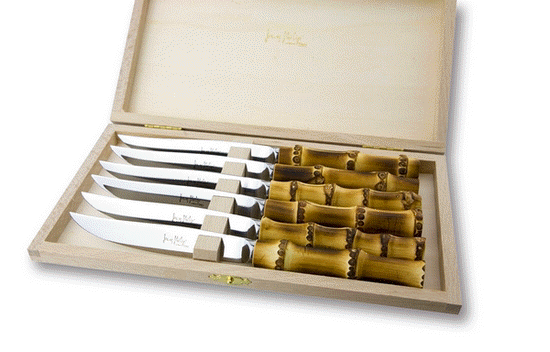 Flatware Settings
The standard flatware 5 piece settings consists of a table knife, table fork, dessert/soup spoon, dessert fork, and tea spoon. Be wary in that European and US flatware settings can differ. It is advantageous to have flatware made to order in that you can select whatever combination you prefer. The deep rounded soup spoon common in the UK and US is not made or used in continental Europe.
Most companies have a wide choice of serving and additional individual pieces such as butter knives (always an attractive and useful item), cheese knives, and fruit knives. Match the number of settings to your dinnerware setting and add one or two to cover losses (it is surprising how often pieces disappear). Always have at least two serving spoons, however, for serving utensils antiques can be just as effective.
You should also consider whether you need matching steak knives (Jean Philip offer steak knives as part of their flatware ranges) or ones that complement your flatware choice. There are a number of specialist steak knives on the market such as Laguiole and Chateaubriand which are extremely attractive and very effective.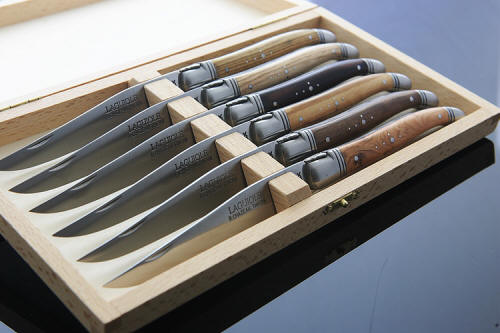 Laguiole steak knives in mixed wood by Jean Philip
Conclusion
Take a look at the bigger design picture, does it match or complement, does it feel right and remember it's always best to purchase quality.