Sterling Silver, how to care for your Silver
There is no real mystery to maintaining your sterling silver it is juas a question of common sense and really not too much effort. The advice applies to both sterling silver and silver plate.
Cleaning
You should only need to clean your sterling silver infrequently as long as you regularly dust your silver with a soft cloth and use a brush to get into intricate areas, or even easier wash in warm water, rinse and dry with a kitchen towel. Do not put sterling silver into a dishwasher.
Tarnishing
If your sterling silverware is tarnished do not worry it is not damaged it will need cleaning with a polish embedded cloth, silver foam or polish preferably in a long lasting variety, as this will reduce the need for frequent cleaning. Do not under any cirmcumstance use wire wool or similar products.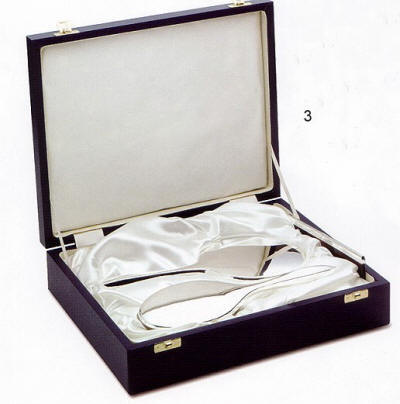 Causes of Tarnishing on sterling silver
Humidity
Certain foods such egg yolks, fruit juices, sprouts, salt, olives, salad dressing, vinegar – always clean your silver immediately after contact with these or similar items.
Use cotton gloves when cleaning to avoid greasy finger prints.
Storage of sterling silver
To prevent tarnish keep in airtight conditions and wrap in linen or plain cotton. Do not store with other metals, especially do not let silver touch other metals. Ensure that your silver is not in contact with rubber including storage cabinets with rubber seals.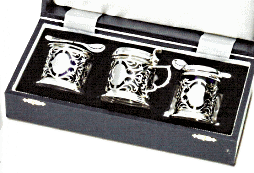 Sterling silver silverware - condiments set from Broadway of England
A little care and prevention and you will have sterling silver tableware and gifts that look beautiful and will serve you a lifetime.