Index of Articles - home
Designer Dinnerware - Is it right for your Bridal Registry?
Fashion or fad? In the past china or porcelain was selected on the manufacturers brand name and was instantly recognizable to the practiced diner. Indeed there was a time when Michelin stars were awarded in part on the quality and providence of the dinnerware manufacturer.
The current generation are not familiar with the classic names in French, German, Italian and English china manufacturers and like so many facets of modern life are more aware of the cult of personality. For example how many times do we watch a film based on the stars rather than the review. Hence we now have fashion designers working with leading brands such as Waterford/Wedgewood creating lifestyle brands. They include Versace, Jasper Conran, Vera Wang, Barbara Barry, Marc Jacobs and now Monique Lhuillier (wedding dress designer).
If you are choosing dinnerware for your bridal registry in the majority of cases it is something that you will wish to use for the rest of your life. In 10 years will it still be cool to name drop the designer, will he or she still be in fashion? Of course the real test is - do you like the design and believe you will enjoy it for years to come. Do not buy on a fashion whim alone.
Now if you want to buy a quality item that will be in fashion for many years why not buy a Monet. Robert Haviland and C. Parlon have been selling dinnerware originally designed by Monet for his own use for many years. Dinnerware designed by the leading artist of his generation - that's not a fad or fashion whim!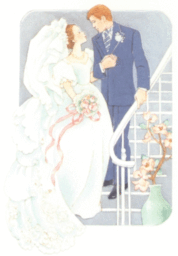 View all our articles from how to keep your silver clean to tips on selecting luxury flatware
4 good reasons to buy from Elegance2003:-
| | |
| --- | --- |
| * | To us, you come first...always! We own and run the company ourselves. You deal directly with us - no intermediaries. We firmly believe that we can only be successful if our customers are completely satisfied. |
| | |
| * | Everything you buy from us is fully protected by our money back guarantee. All we would ask is that if you are not sure of a pattern or color then order a small amount (5 piece setting) rather than a full service. |
| | |
| * | We firmly believe that the products we sell are of the highest quality from small manufacturers made in the country of origin using traditional skills. We support this with our money back guarantee. |
| | |
| * | Very early on we decided that credit card information processing must be an absolute priority and we use a specialist third party company Sagepay to manage securely the whole process. |
| | |