Limoges Porcelain - history of Limoges Porcelain
For many years porcelain had been imported from China and both the source of kaolin and the method of production had been kept a guarded secret by the Chinese. However, the discovery of kaolin in Germany and refining of the manufacturing method initiated a European manufacturing industry in the 18th century.
In 1765, a chemists wife, in St. Yrieixin near the town of Limoges, discovered a white substance, which she hoped could be used as soap. The white substance was analysed and identified as the purest Kaolin, an essential ingredient of porcelain. This discovery has led to Limoges' prominence in the production of porcelain.
Although all the ingredients were available the formula for making hard paste pottery was still a secret held by the Meissen family. In time as Meissen workers migrated around Europe the formula became accessible.
The first porcelain factory in Limoges was established 6 years later in 1771 and was quickly followed by several others. Limoges porcelain at first became a branch of the royal manufacture at Sevres producing porcelain blanks for final decoration at Sevres but after the revolution the industry grew quickly in private companies.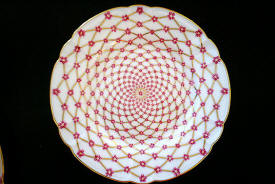 An example of modern day skills - Elizabeth by Robert Haviland & C. Parlon
Limoges had the natural resources and labour to enable expansion of its porcelain industry. It had the kaolin deposits at St. Yrieix, the forests of the Limousin supplied the massive quantities of wood needed to fire the kilns which was floated down the Vienne River to Limoges. The river also supplied the power to pulverize and work the clay. There were many agricultural workers willing to leave the infertile surrounding land and work in the factories as well as a skilled workforce familiar with the making of faience pottery.
Production costs and labor were lower in the provinces than in Paris, and several porcelain factories relocated to Limoges. The 19th century saw a growth of production in Limoges from 5 factories and 7kilns in 1808 to 35 factories and 120 kilns employing up to 8,000 workers by 1900. Limoges became the French capital of porcelain production with 80% of it being exported, mainly to the US.
Royalty, heads of state and grand families chose to have their porcelain engraved with their initials or coat of arms (this luxury is still available today - see www.Elegance2003.com/elegance/monogram.htm ). Painters, sculptors and engravers decorated the Limoges porcelain with original patterns, giving it a truly artistic value. Leading artists such as Nall are still commissioned today to create unique designs.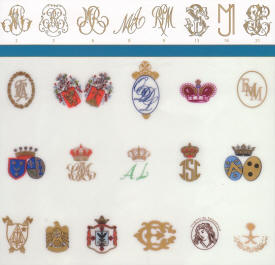 Monograms are available both Jammet Seignolles and Robert Haviland & C. Parlon