Is Porcelain Pottery
Basically yes in that any article made of clay and fired or baked at a high temperature is pottery!
There are two types of pottery - earthenware and stoneware.
Earthenware - pottery is defined as earthenware if it has a porosity of more than 5% and can only be made waterproof with the application of a glaze but because it is usually fired at a lower temperature the glaze is not fused and can be penetrated by water.
Stoneware - pottery is defined as stoneware if it has porosity of less than 5%. It is fired at higher temperatures (up to 1400C) than earthenware and during the first firing the body and glaze fuse together to become vitrified like glass. Stoneware is heavier, opaque and more durable.
Porcelain - porcelain is regarded as a special type of stoneware in that it is fired to a state of vitrification. The difference is that porcelain is translucent which is obtained by the type of ingredients used. Porcelain is first fired at 900C, a glaze is then applied and the article refired at up to 1600C achieving vitreosity in this second firing.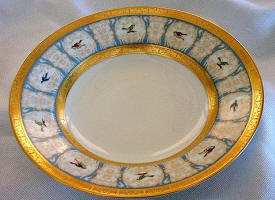 Porcelain by Robert Haviland & C. Parlon
There are 3 types of porcelain - bone paste, soft paste and hard paste (paste is the basic clay and other minerals mixed together to form an object). Bone paste or bone china (the main type of china from England) is made from at least 50% animal bone ash and is mixed with china clay and feldspar. Soft paste porcelain has been made in Europe since the 1600s and was attempting to emulate the hard paste porcelain of China. The manufacturing process was difficult to control, the ingredients not natural (sometimes ground glass) and the porcelain softer often leading to scratching and patchy translucency. Hard paste porcelain (the type manufactured in Limoges) is regarded as a natural porcelain in that the ingredients (Kaolin and Feldspar) are obtained from the earth.
Hard paste porcelain became the basis for German and French porcelain manufacturing.